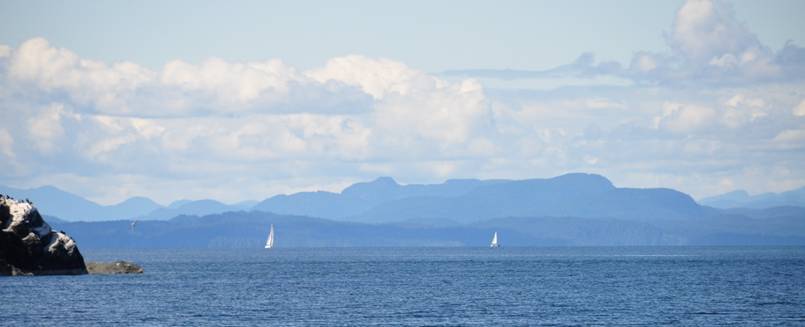 Circumnavigation of Vancouver Island
July 26 through August 25, 2015
July 24, 2015
I arrived in Comox Vancouver Island and was picked up at the airport by Jim Johnson one of the owners of Jirah and our Capitan for the sail around Vancouver Island. He gave me a quick tour of Comox and later I walked a bit of Courtney where my hotel was.
Jirah is a Cooper 416 sloop rigged sail boat.
July 25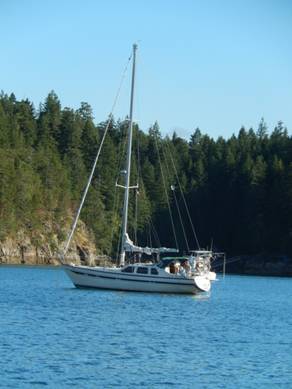 Shopped for provisions and other things needed for the boat and trip. The other crew members arrived and everyone spent their first night aboard Jirah moored at the Comox Gas and Go Marina. We picked wild blackberries from bushes around the marina parking lot.
Crew for the first week of the trip are Jim & Audrey Johnson, Dan Creurer, Ginny Ritson – Bennett, Lauranne and me.
July 26
Comox – Manson's Landing, Cortes Island
I woke up about 6:00am and it was raining. The rain stopped about 8:00am. We all had breakfast at Smitties, filled the water tank and headed out of the marina at 11:00am heading for Manson's Landing on Cortes Island.
As we were coming up to Mitlenatch Island (also known as Bird Island) we saw a large Grey whale. It surfaced in front of the boat and then fairly quickly came up again behind us about 20 meters from the boat. We figured that he was having a look at us because we did not see it again.
We had been invited by Dan's brother Marcel to join him and his wife Julia for dinner. We cooked salmon, scallops, rice and salad for dinner. A real fun evening. I went online and got a fishing licence so we could go looking for clams and oyster the next day.
Under motor all day North West across the Straight of Georgia.
July 27
Manson's Landing to Bickley Bay
At morning low tide we went into the lagoon at Manson's landing and collected our limit of clams and oysters (which is why I needed a fishing licence). We got underway at 9:40am. It was cloudy but warm. We went into Gorge Harbour to check out where Marcel had his scallop farm then Uganda Pass, Sutil Channel, Calm Channel, traversed Gillard Passage into the Cordero Channel where we saw a school of porpoises. We spent the night at Bickley Bay.
Along the way we stopped at an abandoned Indian Village known as Church House opposite the entrance to Hole in the Wall on Calm Channel.
Under motor all day.
July 28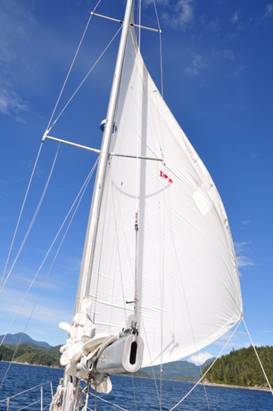 Bickley Bay to Burial Cove, East Cracroft Island
We passed through Chancellor Channel to Kelsey Bay then into Johnstone Straight and up Havannah Channel to Burial Cove.
We had Kelsey Bay in sight before noon but because of very strong currents it took several hours to pass. At one point the current was forcing us backward. Near the end of the day we left Johnstone Straight and turned into Havanna Channel where we were able to raise the sails for the first time. Johnstone Straight was very rough and unpleasant boating. We spent the night at Burial Cove.
July 29
Burial Cove to Village Island
We ran Chatam Channel on the ebb and into Knight Inlet. This was a short travel day
We toured Mamalilaculla which is an abandoned Indian Village and talked to a man who claimed his family had been one of the last to leave the island. He gave us some information on the Coastal Guardian Watchmen and how they were helping to clean up some of the village and Island historical sites so that they could create local jobs through tourism. They were doing some clean-up of the village which is completely overgrown. We picked some blackberries and saw lots of bear droppings on the trails.
For dinner I made clam chowder using clams harvested at Cortes Island.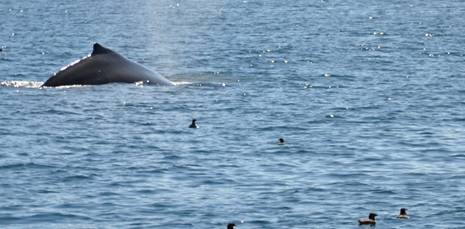 July 30
Village Island to Sointula, Malcolm Island
We motored through Indian Channel into Blackfish Sound and Cormorant Channel. We saw a number of whales and dolphins in Blackfish Sound.
Sointula is a small village on Malcolm Island in Queen Charlotte Strait. It was founded in the early 1900's as a Finnish attempt at a utopian cooperative that did not work out. Still has a coop store which is the oldest in British Columbia.
I borrowed a loaner bike from the marina and rode into the center of town to pick up beer and ice from the only bar/liquor store in town.
July 31
Sointula to Port Hardy
We encountered heavy fog coming into Port Hardy and the radar proved to be very useful because there were a number of small fishing boats around. We picked up fuel, water and groceries.
Change in crew – we dropped of Ginny and Lauranne & picked up Bernie Edinger.
August 1
Port Hardy to Bull Harbour, Hope Island
We left Part Hardy at 7:00am in light fog and rain. It was very cold while under motor with some clearing at noon. We anchored in Bull Harbour which is a nice protected bay with an Indian village that appeared to be deserted and a large dock which had a sign telling visitors not to go on shore unless invited.
August 2
Bull Harbour to Sea Otter Cove
We were up before 5:30am to get an early start over Nahwitti Bar at slack tide. We stayed close to the Vancouver Island shore to avoid the bar but still hit large (+4meters) and erratic swells for several hours. What we couldn't tie down we put on the floor but things still crashed around below deck. Things calmed down a bit after Cape Sutil but picked up again as we rounded Cape Scott in heavy swells. Cape Scott is the western most point of Vancouver Island. Meeting currents and wind can create very hazardous conditions. We passed it in good weather and tides but still had a very rough ride.
The seas calmed down after passing the cape and in one area we saw a lot of large sea otters. Some of them were floating on their backs with their hind legs and tail sticking out of the water and eating a meal that was resting on their belly.
The tide through Scott Channel was not running as expected because we were running a bit behind plan so the opposing current had us down to 2 knots at one point. After we had traveled further south the winds picked up a bit and we were able to put the sails up – wing on wing for about an hour.
We got into Sea Otter Cove at about 2:00pm and had time to find some mussels on the shore and steamed them in white wine for dinner.
August 3
Sea Otter Cove to Koprino Harbour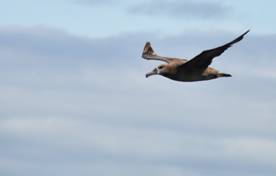 We had good winds for a change and were able to sail for most of the day. We resupplied at Winter Harbour then motored and sailed up into Quatsino Sound and moored in a small bay in the east side of Koprino Harbour – a lovely place.
See photos - July 30 to August 3
August 4
Koprino Harbour to Bunsby Islands
We got up early to do some temporary repairs to the genoa foresail.
We motored most of the day past Brooks Peninsula and Cape Cook. There was 2-3m swells leaving Quatsino Sound and the North West wind created 3-4m swells on the beam as we approached Cape Cook which created lots of rocking and rolling until we rounded the cape.
According to the Waggoner Guide, Brooks Peninsula and Cape Cook, along with Cape Scott are considered the most hostile passages on the West coast of Vancouver Island. We were lucky to pass both in fairly good weather.
After Clark Point we changed to a South East course and had better seas for the rest of the day.
We overnighted at Bunsby Islands and it rained most of the night. It was a nice anchorage with four other boats which must have been traveling up from the south because we had not seen any of them before. One was registered in Edmonton. The Bunsby Islands are a great place to anchor.
August 5
Bunsby Island to Nuchatlitz Bay, Esperanza Inlet
Visited Walter's Cove in Kyuquot Sound and picked up ice and some canned salmon at a small store and 8lbs frozen halibut from a local fisherman we met at the pier. We found the navigation buoys a little confusing as we entered Cove and no signage indicating a store or fuelling dock.
We moored for the night near Nuchatlitz Provincial Park and went exploring in the dingy. We saw a number of sea otters and one abandoned shack but could not find the abandoned Indian village that was mentioned in the guide book.
August 6
Nuchatlitz Bay to Friendly Cove, Nootka Sound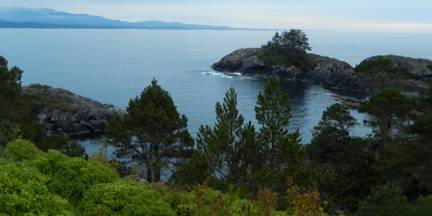 There were a number of boats fishing in Esperanza Inlet as we came out of Nuchatlitz Bay so Jim decided to try some fishing. We trolled for about one hour and had several bites, getting one salmon almost to the boat before it got away and losing a lure to another one. We decided to quit and as Bernie was reeling in the line he got a bite. After a good fight and some anxious moments as it tried to go under the boat, Bernie landed a 20lb female Chinook salmon.
We took the inland route to Nootka Sound, first passing up Esperanza Inlet, then through Tahsis Narrows and finally down Tahsis Inlet into Nookta Sound. This was a lovely passage with relatively narrow channels and cliffs or high hills on either side.
We saw an eagle in its nest at Tahsis Narrows and a couple of salmon jumping while motoring through Tahsis Inlet.
The area around Yuquot or Friendly Cove has been used by the Nuu-chah-nulth First Nations for centuries and is a very important place in Canada's history as well.
In 1778 Captain James Cook was the first European to visit Nootka Sound.
It was a Spanish naval post, Fort San Miguel, between 1789 and 1795 – the only Spanish settlement in what is now Canada.
It was the place of the Nootka Incident where several British trading vessels were seized by the Spanish and this nearly led to war between Spain and Britain
In 1788 John Meares built the North West America, a sloop which was the first non-indigenous vessel built in the Pacific Northwest
Today Friendly Cove has a lighthouse facility and a Roman Catholic Church which now serves as a cultural centre and museum. Near the front entrance of the church are two stained glass windows donated by the Spanish Government to commemorate the Spanish settlement and Fort San Miguel which operated there between 1789 and 1795.
We had some of the purchased halibut for dinner.
August 7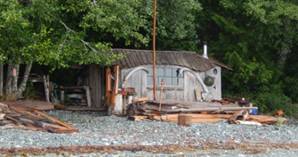 Friendly Cove to Boat Basin, Hesquiat Harbour
Another day of rain, fog and rolling swells. We moored at Boat Basin and went ashore and paid $30.00 each to have a 2.5 hour guided tour of Cougar Annie's Garden. The tour was done by Peter Bucklund who knew Cougar Annie and told us lots of stories about her, the garden and other efforts his charity is trying to do.
Ada Annie Rae-Arthur and her first husband Willie started a homestead at Boat Basin, Hesquiat Harbour in 1915. Annie cleared 5 acres for a garden and made a living by selling bulbs and other plants by mail order. She also ran a post office and general store. She got her "Cougar" name because she shot cougars (and bears) to protect her goats and chickens and for the bounty paid for cougars. She had 11 children and had outlived 4 husbands when she died in 1985 at the age of 97.
Peter Bucklund purchased the property in 1985 and is working at restoring and maintaining the garden through the Boat Basin Foundation and he has set up the Temperate Rain Forest Field Study Centre that includes a main lodge, resident cottages and study cottages. The Study Centre does not appear to be financially viable.
We had fresh salmon for dinner; pan fried after marinating in French dressing, dill and lemon pepper seasoning.
August 8
Hesquiat Harbour to Hot Springs Cove
Upped anchor at 6:30am because of forecasted high winds and high seas later in the day. Motor sailed about half of the way in the rain. Arrived at Hot Springs Cove about 10:00am and spent the rest of the day catching up on email (we had cell phone coverage for the first time in several days) and reading because it rained the entire day.
We left to walk to the Hot Springs about 5:30pm. The walk is about 2km along a well built and maintained boardwalk through the rain forest. Magnificent. We met the last of the daily tours leaving the Hot Springs so we had the place to ourselves. The water was hot and the rocks slippery. There was a small waterfall that was very hot followed by a couple of pools, the lower ones being cooler and tidal. It is a very small area considering the number of people we saw going there from the tour boats and planes which had been coming and going all day.
Steak and fried rice for dinner.
Heavy rain over night.
August 9
Hot Spring Cove to Quait Bay
7:30am start to make it to Hayden Passage at slack tide.
The rain has changed to high cloud and some sun. We went up Sidney Inlet and passed through Hayden Passage into Millar Channel. We anchored for lunch in the south arm of Bawden Bay in Clayoquot Sound near the village of Marktoisi. We tried jigging for halibut but were drifting too fast.
We continued down Millar Channel and passed very close to a salmon farm near McKay Island then crossed Clayoquot Sound, went through Calmas Passage and Cypress Bay to Quait Bay
Spent the night in Quait Bay where there is a very large two story floating lodge which is closed up.
August 10
Quait Bay to Tofino
Bernie fell in the water as we were docking in Tofino.
Picked up groceries, supplies and various hardware for some needed boat repairs.
Had a very good dinner at The Wolf in the Fog restaurant.
August 11
Tofino to Effingham Bay, in the Broken Islands Group, Barkly Sound
Dan left the boat to return to Calgary.
Motored most of the morning in fog but the weather improved throughout the day and we were able to sail for several hours. We stayed about three miles offshore as we passed Long Beach.
Effingham Island is part of the Broken Group of Islands which is a part of Pacific Rim National Park Reserve.
Nice sunny evening with some wind. We had the last of the halibut for dinner.
The August 12
Effingham Bay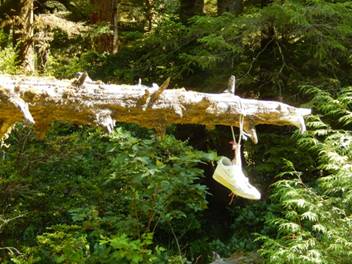 After some help from another boater we found a trail mentioned in the Waggoner Cruising Guide and walked across the island to the east shore. The trail has been marked by string, rope, bottles, buoys, and even a shoe. Very unusual signs for a National Park trail. There are the remains on an ancient Indian village which is only recognizable by a stand of old large trees about 2/3rds of the way across the island. See photos or trail markers
It was sunny for most of the day ending with scattered clouds in the late afternoon.
We met Tim Mann on a motor boat "Salish Sea" and invited him to join us for dinner (the last of the salmon). He regaled us with many stories of the area and his life. He read one of the children's stories that he is writing. "Ms. Katie Goes to Sea" is a story about a cougar that gets into a small boat which is washed out to sea and later rescued.
August 13
Effingham Bay to Refuge Island, Pipestem Inlet
We motored through the Broken Islands to the mouth of Pipestem Inlet and moored behind Refuge Island.
We took the dingy to Lucky Creek and climbed part way up the waterfall at the head of the inlet. Someone had installed a knotted rope which made it easier to get up the start of the trail which was over a very large rock. I had a short swim in one of the waterfall pools – cool but refreshing. Later at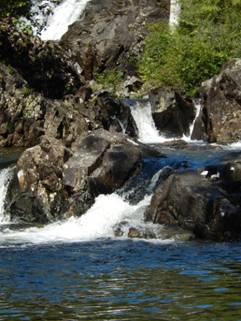 low tide we gathered a bucket full of oysters from a rock about 150 feet from the boat.
August 14
Refuge Island to Bamfield
We did some trolling around the mouth of Pipestone Inlet. No luck again. We then went further into the Inlet to retrieve the prawn trap that Jim had set the previous evening. A knot on the line failed and the trap was lost. We saw two black bears on the trip up and down Pipestone Inlet. After leaving Pipestem Inlet we passed by the Broken Island Group, across Imperial Eagle Channel and through Robbers Passage into Trevor Channel and on to Bamfield Harbour. The day included motoring, fishing and sailing and we saw a couple of whales as we approached Bamfield harbour.
August 15
Bamfield to Thrasher Cove, Port San Juan
Motored out to Cape Beale and fished off the rocks. Caught a small perch. There were several humpback whales feeding very near the rocks and we watched them for almost half an hour as we were passing by. One stuck its head straight out of the water to look around and several raised there flukes but I was not able to get any good photos because the boat was rocking too much.
After we left Cape Beale we motored and sailed through very rough following seas. We started fishing off of Camper Creek and along the coast into Port San Juan. We spent the night at Thrasher Cove which is a popular camping spot for hikers on the Pacific Rim Trail. Jim set the crab trap with the perch as bait.
August 16
Port San Juan to Sooke
There were two good size red crabs in the trap when Jim checked it in the morning. We crossed to the south east entrance to Port San Juan and started trolling off the rocks near the entrance when a very large grey whale surfaced 30 feet off the starboard bow. After that we motored and sailed the entire day in fog and cold wind. The fog lifted just before sunset and we had our first look at Sooke which had been invisible in the fog when we entered the harbour.
August 17
Sooke to Victoria
We did some grocery shopping and I picked some more black berries before we left Sooke.
We motored all day in calm seas and sunshine and did some more unsuccessful fishing before we entered Victoria Harbour and moored at the Victoria Causeway Marina which is directly below the Empress Hotel and BC Legislature building. We went for a walk around the dock area and had dinner at Garrick's Head Pub. Good beer and ok food.
August 18
Victoria to Princess Bay, Portland Island
Went for a walk to pick up ice before we left Victoria and then motored and sailed through a nice hot and sunny day.
Portland Island is also known as Princess Margaret Island and is part of the Gulf Islands National Park Reserve [http://www.pc.gc.ca/eng/pn-np/bc/gulf/index.aspx]. Princess bay where we anchored is a small shallow bay which can accommodate quite a few boats for its size.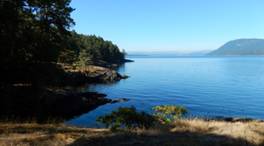 August 19
Portland Island to Maple Bay
In the morning we hiked across the island to Royal Cover and then went on the shore trails around the east end of the island back to Princess Bay, about 5.5k in total.
We left after lunch with the intention of going to Cowichan Bay but the wind was blowing directly into the bay which would have made for a rough anchorage so we continued on to Maple Bay.
It was a nice warm sunny day and we alternated between motor and sail.See Photos - August 18 & 19
August 20
Maple Bay to Clam Bay
Alternated between motor and sail because of the winds. At around noon we motored through one area at the North end of Salt Spring Island where the wind went through a complete 360˚ change in direction over about 45 minutes
We sailed into Clam Bay under the jib and did an impressive job of anchoring under sail. Clam Bay is quite large and can hold lots of boats. There was close to twenty the night we were there and lots of room for more.
We took the dingy through a passage between Thetis and Penelakut (formerly Kuper) Islands to Telegraph Harbour to get some gas for the dingy and check out a small store that sells local produce, baked goods and crafts. The Howling Wolf Farm Market is an honour-system store as there is no staff on hand, just a cash box to put your money into if you buy anything.
August 21
Clam Bay to Nanaimo
Left Clam Bay after lunch so we could get to Dodd Narrows at slack tide. Motored into a NW wind and 1m chop and arrived at the south entrance to Dodd Narrows a bit early so trolled along the shore. We entered Dodd Narrows as the last in line of five sail boats after waiting for seven south bound vessels to pass. There was still a bit of current which knocked the boat about.
Anchored behind Protection and Newcastle Islands near the Dingy Dock Pub & Restaurant.
August 22
Nanaimo
Nice sunny day. Did some laundry and shopping.
I meet up with high school friends Fred L. & Bruce W. and showed them Jirah and then we went to the Dingy Dock Pub & Restaurant for a couple of beer, some nachos and reminiscing about our high school years.
August 23
Nanaimo to Boho Bay, Bull Channel, Lasqueti Island
After leaving Nanaimo through Departure Bay, entered the Strait of Georgia and motored directly into the wind until we reached the Winchelsea Islands just outside Nanoose Harbour. We changed to a NNW course and then sailed for about two hours across the straight to just a few miles off the channel between Lasqueti and Texada Islands where we lost the wind. We motored through Lesser Bull Channel into Bull Channel.
August 24
Long Bay, Jedediah Island
Motored out through Bull Channel to a reef where we saw fishing boats the previous day. We caught one medium and one small cod and set the prawn trap. We then anchored in Long Bay, Jedadiah Island which is still part of Bull Channel. Jim and I spent an hour tracing the wiring between the sonar transducer and the Lowrance unit because the depth reading has been sporadic the entire trip. No solution found.
A small sailing boat entered Long Bay looking for a spot to anchor and ran aground on a submerged rock. Jim and Bernie took the dingy over and used their halyard to tip the boat enough that it was able to get off the rock. No serious damage to the boat or the rock.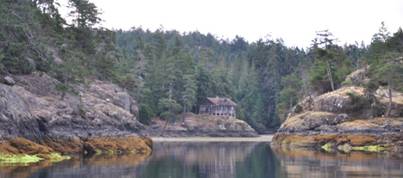 August 25
Long Bay, Jedediah Island to Comox
We left Long Bay with the intention of going part way around Lasqueti Island to spend the night at False Bay but then decided to head back to Comox so we could have all of the next day to do some boat repairs and cleaning.
August 26
Comox
Jim and I did some driving around to source a number of parts and get a battery charger to test the bow thruster charging system and batteries. Replaced one faulty battery but the thing still would not work properly.
August 27
Everyone left for home – the adventure had ended.